Akupella Ciara "Coco" of PurreciousKatz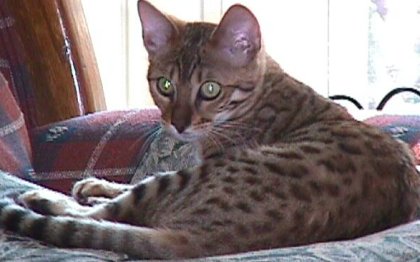 Coco's Pedigree
Sire
Dam
Anjali Don Juan DeMarco
of Akupella
Walkabout Toska of Akupella

Thanks to to Jonni and Larry of Acapella Bengals for sharing this lovely girl with us.

Coco is the queen of our house. She was our first girl and immediately charmed me completely with her wild, nocturnal green eyes. She is long bodied and has the walk of a leopard. Her warm toned good looks come from her parents and she has nice contrast to show off her lovely rosettes. She has spots all the way down to her feet!

She is definitely Daddy's girl and loves to help him when he is working on his computer. I can tell when she's found her way to his lap because she has the Precious Purr that gave PurreciousKatz its name.
| | | |
| --- | --- | --- |
| | | |